2012, SEPTEMBER 11: TO LITHUANIA, VILNIUS
This morning, we got up at 5:00 to get ready for breakfast at 6:30 and departure at 7:30, for Vilnius, Lithuania, about 105 miles away.


It took us about two hours to reach the border. Border formalities took a long time. At the Belarus checkpoint the license plate of our bus was recorded.
At the second checkpoint, a woman officer boarded the bus. She collected our passports while comparing each person's passport photos with the individual's face. She took all the passports inside the office for additional formalities.
Our driver had to go in with his bus documents for official verification. On behalf of our travel company, the driver had to pay fine for having two persons less on the bus, than the number notified to the Belarus authorities earlier. Unfortunately, a couple of days earlier, an Australian couple had to leave our group, to attend to their seriously ill daughter, back home.

After that all our passports were returned to us, and we were ready to proceed to Vilnius, the capital of Lithuania, a European Union country.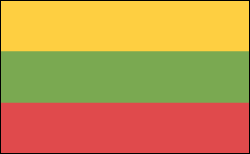 We completed similar formalities at the Lithuanian border.
Long lines of trucks were lined up on each side of the border.
Known as the "baroque beauty of the Baltic," it is a vibrant city, with a pleasant mix of the old and the new.
Area on the Other Side of the River From Our Hotel
A Shopping Mall Near Our Hotel
River Neris runs through the city. Embankments on both sides of the river are lined up with wide green spaces.
Near our hotel on its north side, there were also a small sandy beach, a restaurant, a paved recreation area, and of course, graffiti.
On the north side of the bridge, the old Soviet concrete blocks are giving way modern glass-encased buildings, shopping malls and a new skyline of skyscrapers.
After check-in at our hotel, Radisson Blu Latvija, we went across to the shopping mall looking for some place to have lunch. On the third floor, we found a fairly large, nice, pizza place. Since we did not have any Litas (local money), we asked if they will accept a credit card, which they said they would. We ordered a vegetarian pizza and soft drinks.
After lunch we were disappointed to find out that we could not add a tip on our credit card bill.
Anyhow, we were then ready for the 1:30 p.m. start of our city sightseeing tour.