2012, SEPTEMBER 9: TO BELARUS, MINSK
After early breakfast, we left our hotel in Moscow at 8 a.m., for our 400+ miles journey by road to Minsk, Belarus.
It was a cloudy and drizzled for a long time, although it cleared up and was sunny as we got closer to Minsk.
Before leaving Moscow, we passed by the Triumphal Arch at the Victory Square. The Arch commemorates the Russian victory in the Great Patriotic Wars against Napoleon and Hitler.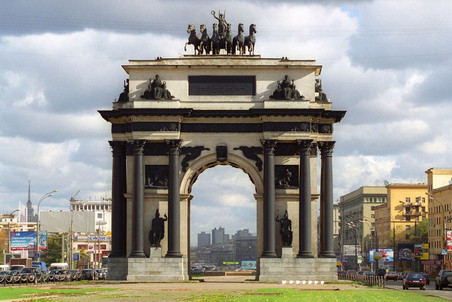 Triumph Arch, Moscow (Open Stock Photo)
While traveling on the Moscow-Minsk-Berlin-Paris Highway, we were in fact using the route to Russia, taken by the Polish, French and German invaders, at various times.
Along the road, we came across a building with a car perched on its top! I wonder, if it meant as an ad for an auto-business.
About a couple of hours into our trip, we stopped at a store-restaurant for a restroom and coffee break.
It was located next to a gas station.
Then we passed by Klushino village in Smolensk Oblast, Russia, where Yuri Gagarin, the Russian cosmonaut and the first man in space was born. Gagarin's picture was prominently displayed by the road.
It is said that, just before the famous take-off, Gagarin had to make an urgent restroom stop. And till today, Russian cosmonauts observe the tradition, just before the take-off, even if it is not needed.
By the way, Gagarin's birth place was also the site of a major battle during the Russo-Polish War (1605-1618).
Belarus is the last dictatorship in Europe. Alexander Lukashenko has ruled the country since 1994. In September 23, 2012 elections, he and his supporters won every seat, ensuring another 5 years of his iron-handed rule. Media is completely controlled by the state. Most of the dissidents are in jails. More than 2,000 people were detained for opposition activities just in the last two years.
Belarus has no natural resources. Flax seeds and potatoes are the main crops. Its 10-million people depend on Russia for most of the products they need. Even in oil and gas are heavily subsidized by Russia. Hence it continues to be under Russian influence. Cuba and Venezuela are its close friends.
Less than an hour later, we reached the restaurant on the way, where had our lunch.
Moscow-Minsk-Berlin-Paris Highway compares well with any major highway in the world, with overpasses, lane-markings, and roadside signs and facilities.
The road passed through forests, meadows and some small towns.
...hay-rolls (also jokingly called by some "toilet-rolls") for cows.
We whiled away our time during the rest of the long travel to Minsk, watching an old travel-related movie "My Life in Ruins."
Before entering Minsk, we stopped at the Mound of Glory. It was established in 1969, to honor the Russian soldiers who had lost their lives in their 1944 operation, to liberate Belarus from the Nazis.
Mound of Glory
There were many commercial hoardings all along the road into Minsk.
Passing by a MacDonald's,..
...we reached our hotel around 5:00 p.m.
Atrium, Hotel Europe, Minsk